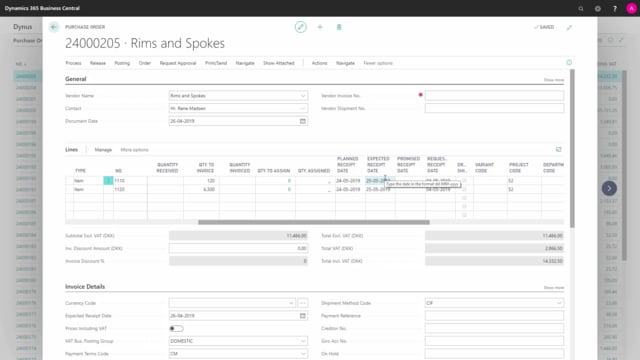 Log in to create a playlist or see your existing playlists.
Log in
Open Playlist
How do I change the purchase orders in the requisition journal in Business Central?
If you are a purchase planner, you already know that things seems to change all the time, all the dates the demands, the supplies.
This is what happens in the video
And therefore the requisition worksheet could also change quantities and dates for you.
In this example, I have a purchase order with some quantities on items, some expected receipt date out here and I know that my demand, has changed somehow, so when I run the plan now, I would expect this not to cover my demand.
So when I run my requisition worksheet and I run the normal calculation of plan, like I do every time I'm planning with the worksheet, the system will automatically suggest to move the quantities.
So after doing a breakdown of the quantities, it could suggest new quantities, change of quantities etc.
And those are the action messages for each line, that you need to look carefully into.
So if you look at the possible action messages here, it could suggest to change the quantity on a purchase line, it could suggest to reschedule meaning, moving the purchase line in date, it could suggest to do both meaning, changing quantity and rescheduling or it could suggest to change the order line.
And the time period of doing that, depends on the dampener, you have setup on the item card and the parameters you are planning upon, if it's a fixed reorder quantity, lot-for-lot etc.
So sometimes, I see that purchasers are just deleting some of the line here, because they don't want to change anything or cancel anything and then they carry out the new one, which of course will give you too much in stock, so you have to be careful, when the system suggests lines like this and if you use the planning flexibility functionality, where you can lock the purchase order line, they wouldn't pop up in the requisition worksheet, but then you need to be able to set the checkmark on the purchase order line for the planning flexibility.
And I'm not s ure that is in the essential license, you can test that by yourself.
So of course, when you're ready now and you want to actually do the suggested changes, you could process, carry out and say ok and it will change the purchase order lines, as suggested.
This also means now, if it the calculation was right and I'm doing the calculation of the plan again, with exactly the same parameters, nothing should occur because now, everybody is happy, and if I look back on my purchase order in here, the dates on the purchase order should be changed, according to the suggestions in there.